Ucheya Clinton is one of Nigeria's top Network Marketing mentors, who is passionate about educating Africans on Network Marketing.
After a series of entrepreneurial ventures, including running his family hotel.
Ucheya decided to search for a job. like any normal graduate.
The person he asked to help him find a job introduced him to a Network Marketing opportunity.
Here is Ucheya's story:
Tell Us About Yourself. How was Life Growing Up?
My name is Ucheya Clinton.
I am from Abia State. I was born in a polygamous family of four ( wives ).
I am the first son and third child. We are eight in number. From my mother, we are two boys. I speak French ( because at the age of 10, I was taken to Cotonou Benin Republic with my brother where I spent 6years schooling before returning in 1999).
I also speak English and Igbo
Growing up wasn't rosy. I spent the first 10years of my life with my mum and brother without my dad who was with his latest wife then.
I had a hit and run car accident while fetching water after school on the street.
I am a BSC holder in Public Health from Federal University of Technology Owerri ( FUTO ).
Did you have any business or job experience before network marketing? Tell us about it.
My dad took us back to Nigeria when his business in West Africa( Benin Republic, Togo, and Ghana ) started failing.
He was into the importation of second-hand clothing.
In Nigeria, he invested in a hospitality business.
I was in my first year at the university when he launched his hotel.
So when we come back from school on holiday, we had to join as staff there.
So basically I served drinks as a barman. By the time I graduated, I became the Storekeeper and logistics manager.
When he passed on in 2012, I took over as the manager of the hotel sacking the former manager due to mismanagement.
I Left the post after a year because of family reasons ( What you will always get from 98% of all polygamous families) for a new generally accepted ( by directors of the hotel which includes me) manager.
How did you discover network marketing and what made you embrace it?
Before managing my family's hotel which was after NYSC, I reached out to an old friend of mine who was my senior in our primary school then in Cotonou Benin Republic.
He was a staff of UBA in Lagos.
I wanted him to help me get a job in the bank.
Instead, he was speaking to me about network marketing.
I didn't know he was planning to quit his Job and face network marketing full time.
So he invited me to attend a presentation in Lagos. I didn't join till after 3months.
While in a mechanics garage where I went to repair my dad's old Mercedes-Benz, I ran into someone who came to repair his car.
He now started talking to the engineer about an opportunity he just joined and how it was profitable.
The engineer asked him to explain. He immediately called his upline who came down to where we were, with his laptop and started teaching everyone.
I realized it was the same company my friend told me about.
I quickly reached out to him the next day and signed up.
I am still in the same company till date.
This is almost my 4th year in the industry!
I embraced Network Marketing because it can offer me my dream lifestyle.
I have always wanted to live a life whereby age 40, I won't be hustling much but be harvesting from my investment with my kids knowing me.
Until my dad passed away, none of his children were like his friends.
There was a big gap in between.
It made me want to play professional football because I knew I was good and could make good money.
I was always in my school's football team first 11 from my primary school till two different secondary schools.
In my last secondary school, I was made team captain. I took my school to a competition and we came 4th.
Because of the quick money in football, I wanted a football career but didn't have the support I needed from my dad even when my U.S. based Uncle wanted to take me abroad to play football while schooling.
I then shifted my attention to Music.
As a rap artist, I could write and compose.
I have four demos which I even performed during my NYSC 3 WEEKS camp.
I Left that dream because it was harder as I had to take care of the family when my dad passed on.
So network marketing could offer me what I wanted which is being financially free even before I turn 40.
I am 34 by August.
What challenges did you face building your MLM here in Nigeria? Don't hold back!
I came into the industry as a newbie.
I had no skill whatsoever. No skills that could get you results you want.
I went back home after signing up with my package in my hand hoping that friends and family will all come in their numbers to sign up with me.
They consumed my products and said, ' thank you very much'. 🙂
They said they don't have money to sign up, they don't like Network Marketing, it's a scam etc.
Basically, I didn't have the right skills and knowing who to talk to was a challenge early.
But as I remained focused, I realized my mistakes and I started to do what I should be doing.
Many Nigerians still haven't completely accepted network marketing which is an issue but skills really are the answer.
What was the first 2 years like in Network Marketing and what was the hardest lesson you learned?
I will say it's both good and bad.
It was a  journey in which I had to really learn or go away.
Within my first year, I married my upline ( smiling).
Remember my friend who sponsored me?
His own direct sponsor, a beautiful gorgeous woman is my wife and mother of my two kids today.
Moving from one city to the other prospecting strangers and trying to get result made me see her as an ambitious lady.
I made the right move.
In network marketing, she is 3years older than I am but in my current company, she is just a month older when I signed up.
She helped shape me.
Now, with a lot of learning from a lot of coaches, I am the one teaching her.
The hardest lesson was never to prospect your friends and family.
Till date, they celebrate me but aren't interested in being part of my business.
I'm sure you get a lot of objections from Africans about your business. What are the three most common objections and what is your response to them?
Yes, I get objections always.
Most especially from Africans in African countries where I tend to build my business in.
Three most common objections are
•You are a Nigerian, You guys are scammers.
My response:
Sometimes I try to make the person understand that he or she should not generalize based on the actions of one person.
I go ahead and tell them that the business I am talking about is in their country, patronized by their countrymen and women.
I got a Kenyan through this process.
She is passionate to learn daily.
•I am not interested in Network Marketing. People have used it to scam a lot of us.
My response:
'Do you actually understand what I am speaking to you about?  It's network marketing and not a Ponzi scheme.'
I go ahead to differentiate between the two.
Although some believe but don't have money.
Some just don't believe at all.
•Why do you patronize imported products?
Why can't you patronize locally made products in your country? Our government is doing everything possible to stop imported fake products.
(this is the sort of response I mostly get from Ghanaians).
They are so difficult.
My response:
I just don't argue or talk much with them.
In this industry, Ghanaians believe they should prospect Nigerians and not the other way around.
I just don't keep pushing.
I still have a lot of them as friends.
What do you think of the state of the Nigerian/African MLM industry, and what can we do to improve things?
We need more enlightenment through coaching.
And if a certain MLM company promises to do a thing, they should keep to that promise.
Nigerians/Africans are like THOMAS in the bible, ' Seeing is Believing.'
If a Nigerian wanted to make money fast with you, what would you tell them to do?
I don't believe in fast money but I will tell the person to join network marketing.
Network Marketing will give the person fast money but through a process of skill learning.
It is fast but not a get-rich-quick scheme. It is faster than the corporate world of 9-5.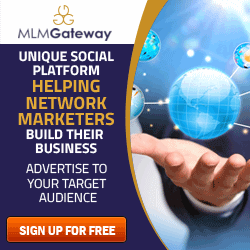 What get's you lead's consistently?
My Facebook updates get me leads as its a form of Attraction marketing.
I also reach out to people by loving their post and commenting on their updates.
I get them to like me and then I push the conversation to Facebook messenger to build a proper relationship before presenting my opportunity.
The worst they will say is they are not interested.
We will still be friends but this time, I am targeting the person's friends.
It's funny, right?
I don't use any lead generating software, although I use Facebook ads to get attention sometimes.
Tell us more about Ucheya System Pro?
It is just my blog where I share value as an MLM  attraction marketer.
Although I have not gotten any signups from what I share here.
For now, it helps me to build my list.
Email marketing is one area I am trying to learn and build. I will eventually learn it, but it's not my focus for now.
What is your favorite book right now and why?
They are many but I will prefer to mention a book I am currently reading.
THE Z OF MARKETING BY KINGSLEY AIGBONA.
The book is about marketing and I am learning things that will help me sell myself and my business more.
Its very simple to understand.
What are your goals for 2017?
To build a strong international team in different African Countries where my company has an office.
It is not easy but it is achievable.
What is your favorite quote and why?
My favorite quote is my personal quote on leadership.
" A leader is not one who has a thousand or more followers but none can do or is doing what he does. A leader is one who has a single follower who is just his Mirror. "
Why?
Leadership is the answer for Success.
Learn from Jesus.
You can connect with Ucheya by clicking the link below to his MLM blog:
Click here to connect to Ucheya System Pro
If you got value from this interview, like, comment, and share!
Did This Blog Help You? If so, I would greatly appreciate if you commented below and shared on Facebook and other social media.

Adewale Adebusoye's MLM and Internet Marketing Blog
Follow me on Instagram: @adebusoye
Skype:adebusoye
Email: ade(at)adebusoye (dot)com
PS: I am always looking to work with new leaders.
If you are a no-excuses person and you'd like to work with me directly Click here to apply!
Adewale Adebusoye's MLM and Internet Marketing Blog
I love showing entrepreneurs and business professionals the beauty of Online Network Marketing.
If you'd like to work with me, click here to start.