My MLM gateway review – the secret lead source to explode your business
In this post, I will do an MLM Gateway review.
I stumbled across MLM Gateway some years back but didn't take it seriously.
But social media sites like
Facebook (especially)
Linkedin
Twitter
Etc will BAN you if you come across as too promotional, especially if you're promoting an MLM business opportunity.
Alright, I won't be politically correct…
Most social media sites like Facebook HATE MLM and online business opportunities.
I had a few issues with Facebook banning ad accounts, and so I dove back into MLM Gateway, and the results are not bad at all.
MLM Gateway Review: What The Heck Is MLM Gateway Anyway?
Well, MLM Gateway is a social media site for Network Marketers with some very impressive Alexa stats.
Anyone on MLM gateway is either promoting an opportunity or LOOKING for an opportunity, so there's no need to be afraid of being labeled a spammer or being banned.
I remember Mike Dillard of Magnetic Sponsoring said that the BEST people to recruit into your Network Marketing business are other Network markers.
They understand the industry and don't have to be sold on personal development and doing the work.
MLM Gateway is founded in Czech Republic and has two levels to join.
There's a FREE level for everyone, and there is a paid version for you to upgrade to.
You can actually run ads on their platform, and it's very easy and pretty awesome!
How Does MLM Gateway Work?
I shot this short MLM Gateway review video to give you a little tour of the system.
MLM Gateway Review: How To Get Started
You simply visit their website here and click on free sign-in.
You'd fill out a simple form and then they will create your profile. Here is mine:
Like most services of this kind, MLM gateway uses a credit system
For each person you refer to MLM gateway, you get 10 credits.
I got over 100+ credits just for placing banners on my site.
MLM Gateway Review: How To Use Your Credits
You can use your credits in different ways
Run ads
Contact members
To Show your name at the top of the page for 24 hours as a featured member
MLM Gateway- More Cool Stuff
You can write business announcements to promote your business.
They should just be 400 words and you can include a link to your blog or website
Each article you publish gives you 10 credits
Now I talked about paid membership earlier, so Let's have a look at that.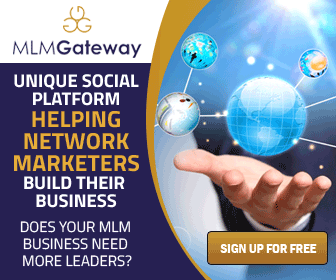 Benefits of Paid Membership
How much does MLM Gateway cost? If you want to become a paid member, the fee is $24.95 a month or you can pay 60 USD a month as quarterly fees (seems that might work for me)
Some cool things you get as a premium member are:
Your website link on your profile page
Unlocked leads who want to join your biz opp
50 FREE credits every month
Premium badge which will show in the member's list
You're listed on the "featured professionals page"
And lots more!
And 15 credits for each referral instead of 10
But the main reason I LOVE this platform is I can create ads without being banned unlike platforms like Facebook.
MLM Gateway Ads: How To Create Ads On MLM Gateway In 3 simple steps
Click on the "Advertising" tab.
From there, click the green button at the bottom of the page".
Fill in your ad details, the creative, the copy, the position, etc.
MLM Gateway Scam – Is this another scam online?
No, MLM Gateway is not a scam. It's a legit multilevel marketing business.
It's transparent and an awesome way to generate leads for your business and build up your email list, and market them to other offers.
MLM Gateway Affiliate Program
I haven't signed up for MLM Gateway affiliate program yet as I'm not yet a paid member, but these are the benefits you get from their program
35-50% commissions
24-7 customer support
High converting landing pages
6% commissions on referrals made by your sign-ups
Lifetime referral commissions on EVERYONE you refer (this is crazy!!!)
Another source of income from those who say no to your traditional MLM
Affiliate marketing software to track your results
Now Listen…
I'd like you to join MLM gateway through my link here
Here is my No-BS offer
Join through my link as a member (either free and paid) and I'd send you a PDF "Online MLM Recruiting Secrets"
When you sign up, forward a copy of the sign-up email you received from MLM gateway to ade@adebusoye.com, and I'd mail you the PDF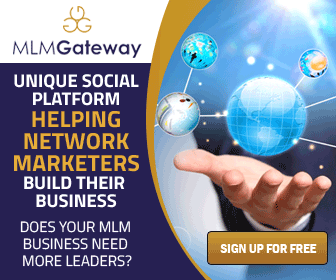 Conclusion: My MLM Gateway Review
Most network marketers do not know about this traffic source.
They keep struggling to FORCE the traditional social media sites like Facebook etc to accept them
With MLM gateway you can go where you're accepted and DOMINATE.
This can help you generate leads for your business and sales for your offers
So sign up for an account here, and your business will thank you!
Did you get value from this MLM Gateway review?
If you did, please like, comment, and share!
References
MLM Gateway Review: online MLM community
Jason Lee HQ: Best MLM Gateway Review
Adewale Adebusoye's MLM and Internet Marketing Blog

I love showing entrepreneurs and business professionals the beauty of Online Network Marketing.
If you'd like to work with me, click here to start.